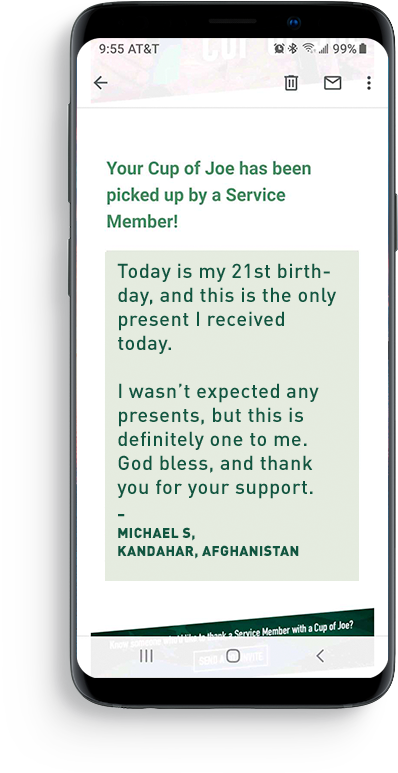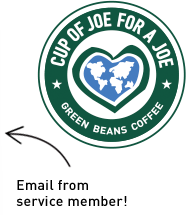 When you buy a CUP OF JOE FOR A JOE deployed overseas, we immediately match your COJ to a waiting Service Member. They receive an email with your message and can write you back. They take the COJ voucher in the email to their nearest on-base Green Beans Coffee café and are given a fresh, hot cup of coffee and an opportunity to enjoy 15 Minutes of Home®
BUY A CUP OF JOE NOW
SIGN UP FOR CUP OF JOE FOR A JOE
Green Beans Coffee is a decades-long supporter of America's Service Members with over 30 locations on military bases in the Middle East, North Africa and Southeast Asia. They were the first US Food & Beverage company to serve Troops in Afghanistan after 9/11. In 2008 Green Beans Coffee launched Cup of Joe For a Joe, the first social media initiative to allow Americans to buy a  deployed Service Member's next cup of coffee, and send a personal message- and get a response back.
Now in its 11th year with over 2 million COJs delivered, Cup of Joe For a Joe will allow gifters to round up their COJ purchase and donate the extra amount to non-profits that support military families back home.

We're proud to support America's Service Members and their families on their military journey, from deployment to discharge and beyond.

---
NOTE: COJs cannot be sent to specific individuals, but are randomly allocated. To send the gift of Green Beans Coffee to a specific Service Member, buy them a Green Beans Military Coffee Card.