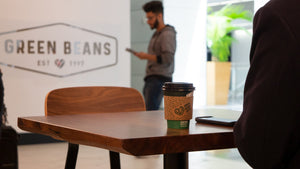 green beans coffee at the airport
green beans coffee at the airport
green beans coffee at the airport
green beans coffee at the airport
We have experience creating "cafes of calm" in peoples' fast-paced, stressful days. Green Beans Coffee in synonymous with 15 minutes of home all over the world and US airports are no exception, in fact, we have it down to a science...
First and foremost, we make the café easy on the eyes (and ears and noses). Warm lighting, aesthetic lines, down-tempo music, the smell of fresh-baked treats. Second, treat the traveler, flight attendant or airport employee like an old friend- complete with menu recommendations. If you're a regular, chances are we greet you by name and we'll have your drink going when we see you on line. We make all your favorite espresso bar, coffee, tea and cold beverages to order and we make them better than anyone else. Having a fresh baked selection bigger than most bakeries doesn't hurt. Neither does having wraps, salads, and sandwiches made proudly by local purveyors. We take pride in offering a warm, inviting atmosphere and a consistent, high quality product every time, everywhere.
Right now you can have this experience at 10 Green Beans Coffee airport locations airports across the country, but don't worry, we're opening more all the time.
NEW LOCATIONS
2019 was another banner year for Green Beans Coffee's airport presence. In the fall, we unveiled our new cafe look at San Francisco's International Terminal G.
We proposed a new kioskafé concept for SFO's highly sought-after Terminal 3 modernization project, and won.
Nashville International Airport invited us to be part of their BNA Vision expansion program with a 2700-square foot lease we're building out right now. With these location entering the build-out phase, we anticipate an even bigger 2020 for Green Beans Coffee at the airport!
Check out all our airport locations ahead of your next trip.
NEW PARTNERS: WHISK & BOWL AT DFW
If you've been through DFW Airport recently, you've heard about Whisk & Bowl, the European-style bakery concept that opened in Terminals A and C. We heard about them too, and then we tried their cupcakes. To say we were blown away would be an understatement. Their elevated menu of muffins, cookies, cupcakes, scones and other fresh-made treats complements our drinks perfectly, so effective immediately all US Green Beans Coffee locations will be serving Whisk & Bowl fresh baked selections and all Whisk & Bowl locations will be serving Green Beans Coffee.
NEW PARTNERS: PRONTO! AT SFO
If you're visiting SFO this fall, stop by Pronto! in Terminal 3. This sleek Italian marketplace showcases curated provisions from local San Francisco neighborhood purveyors- hidden gems you wouldn't normally get to try at the airport. As a local Bay Area brand for more than 20 years, Green Beans Coffee was the perfect choice to operate their coffee and espresso bar.