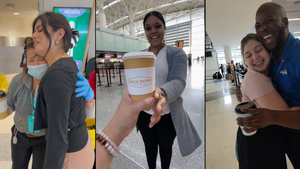 Green Beans Coffee Expands Popular "Random Acts of Coffee" Campaign to BNA and DFW Airports
Dallas-Fort Worth, TX - Green Beans Coffee, Elevate Gourmet Brands' popular third-wave airport cafe brand, is expanding its Random Acts of Coffee social media campaign to BNA and DFW airports after viral success at SFO airport. 
The fun, candid campaign follows Green Beans Coffee team members as they randomly surprise SFO airport employees and travelers with popular coffee beverages, garnering authentic reactions and joyful interactions in the process. Random Acts of Coffee became an instant hit in early 2023, garnering over 50K views on Instagram, and SFO airport took notice, promoting the campaign on its own social media.
"At the core of the Green Beans Coffee customer experience is simply making a positive impact in every guests' day. With 'Random Acts of Coffee' we're expanding that experience from the café to the concourse and beyond," said Greg Rabbitt, Creative Director. The campaign was conceived by Mr Rabbitt and Social Media Designer James Garcia and launched at SFO with Regional Manager Angelita Velasco. 
"We've been serving airport travelers and employees at SFO for over a decade, and they've made us their favorite café," Ms Velasco, who hosts the Random Acts of Coffee clips filmed at SFO, continued, "Our flagship location is there, and we're constantly experimenting   with new ways to impact and interact with airport travelers and employees, surprise them with coffee, have a quick chat- we're happy to brighten people's day, make them smile, and take them out of their busy day for a moment."
"Using this winning formula, we're looking forward to surprising travelers and airport employees at Nashville and Dallas with Random Acts of Coffee this spring!" said Creative Director Greg Rabbitt.
Follow Random Acts of Coffee on Green Beans Coffee's Instagram at
https://www.instagram.com/greenbeanscoffeecompany/
---