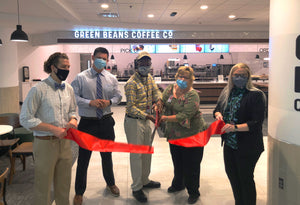 Green Beans Coffee Unveils Brand New 3,000-Square-Foot Location at Nashville International Airport
Nashville, TN – Elevate Gourmet Brands' third wave coffee concept Green Beans Coffee unveils its expansive new location near BNA's South Terminal exit this week. Designed in collaboration with Silhouette Architecture Design in Chicago, this 3,000-square-foot ultra-modern location showcases the highest quality materials, clean lines, sleek modern fixtures, and the newest back-of-house technology including an integrated TOAST point-of-sale system.
Green Beans Coffee is a proud partner of both BNA Nashville International Airport and nearby Ft. Campbell US Army Base dating back to May of 2011.
"Elevate Gourmet Brands is thrilled to expand its relationship with BNA airport, MNAA and Fraport," said Linda Jungquist, ACDBE Partner for this location, and lifelong Tennessean, "Elevates' Pronto! Marketplace on concourse B has been serving a taste of Green Beans Coffee since opening this past summer. Our customers are excited to now experience all day parts at this new South Terminal Flagship Location
---